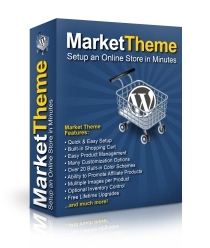 Market Theme is an innovative e-commerce theme developed for WordPress.
The idea for "Market" first came about when asked to do two ecommerce related projects using WordPress. Both projects went over very well, and immediately began to produce email after email asking to do the same for other sites.
Rather than build the same thing over and over again for clients, we decided to modify things and create an entirely new theme, using a lot of the features found in the two previous client projects. The result was Market Theme.
What Exactly is the Market Theme?
Market is a full featured WordPress theme that transforms an installation of WordPress, into an easy to use e-commerce store.
Utilizing new custom fields and menus, Market allows you to easily add product information including prices, description, options, image uploading, shipping, and more -- all from an easy to use administration interface. Market truly is the ultimate solution for creating an environment where you can sell your own physical products, affiliate products, or digital downloads without a lot of setup time or technical knowledge.
Market utilizes phpThumb to generate on-the-fly thumbnails and FancyZoom to show multiple full size images of your products. The result is slick and visually appealing! And just like any other WordPress theme, it can be customized as much or as little as you want. (In fact, Market has over 20 different color schemes built-in. Choose the one that best fits your product's personality.)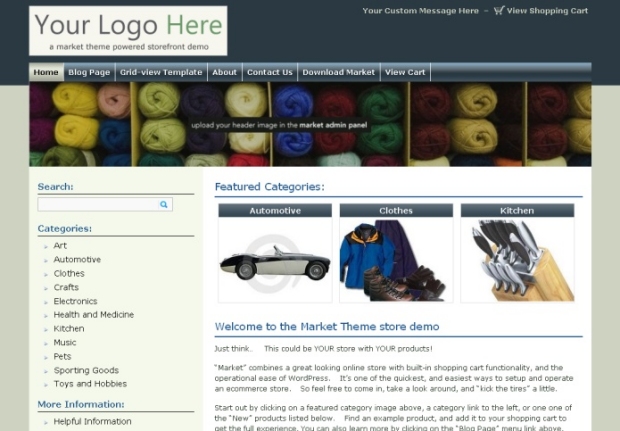 How Does it Work?
Sometimes people ask, "Is this just a theme?"
When they say this, they are referring (in somewhat disbelief) to the fact that there is seemingly no way the Market Theme can boast such an extensive feature list without requiring any plugins. Yes, it is way more than a theme - but it still is just a theme. Market requires no plugins at all to run. Everything to help you add and edit products is already built-in.
Market allows you to not only specify a price and description of the product, but to also include size and color options, inventory levels, shipping charges, and other additional details about the product. You can even assign unique affiliate link URLs to specific products, allowing you to offer affiliate products on your own website.
Market uses Paypal for its checkout payment processing, but also offers an Authorize.net option, as well as the ability to accept orders without a payment gateway for manual offline order processing. (A Google checkout module is also available.) With all of these payment gateway options, it means that your customers can pay with Visa, Mastercard, American Express, Discover, Google Checkout or Paypal.
Or... you can even setup Market with NO payment gateway option, if you simply want to present an online catalog to showcase your products without customer ordering.
Built With Skill
Market was developed by experienced WordPress designers and theme developers. Many have released numerous themes to the public for free and for pay, and have written countless articles on developing for WordPress. Even the Market Product Manager tools and the Ajax Shopping Cart were outsourced to experts who specialize in their respective technologies. This is a very well built e-commerce solution from the ground up.

Market uses its own ajax shopping cart module, so your visitors can add products to their cart without having to leave your website every time as they would with a third-party shopping cart provider. And since this is still just a straight forward theme, Market works on any version of WordPress, up to and including the latest version..
Constantly Improving
Since the theme's initial launch in late February '08, Market has came a long way. Updates are released every few months. Previous Market 1.0, Market 2.0, and Market 3.0 versions (which all feature slightly different design layouts), are also still available in the Download Center. You get access to all of them and more the moment you purchase a license. (ok, maybe a few seconds after) Improvements are always being made, and new versions being released. These upgrades and additions are always free to our past customers.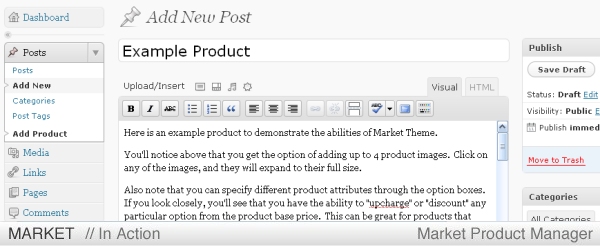 Affordable
With Market, you are really getting more bang for your buck.
The incredibly low standard license purchase price is well below the standard license prices found in other popular premium WordPress themes that don't even offer shopping cart capability! Even the developers license is pleasantly affordable.
The Market Theme may be the smartest, easiest, and most affordable choice for anyone looking to sell their own products online. Take a tour and see for yourself.