If you're looking for a WordPress catalog plugin, then you should seriously consider Market Theme as a possible solution.
Maybe you don't need an ecommerce website. Maybe you just want a way to set up a simple, good looking product catalog using WordPress.
Market Theme is not only a great way to sell products on your website, but it's also one of the easiest, and best WordPress catalog solutions available. It can help you or your business quickly put together an attractive, well structured product catalog to show off all of your organization's products and services.
More Than a Product Catalog Plugin -- It's an entire self-contained Theme
Unlike other WordPress product catalog plugins, Market Theme is not even a plugin at all, but is actually an all-inclusive WordPress theme. (But don't let that mislead you.) Although Market Theme is designed as an eCommerce theme, it has the abilities and functions of what you might expect from a typical product catalog plugin.
With a quick change in the settings area, you can easily disable the built-in shopping cart system to transform it into WordPress catalog mode. Turning off the shopping cart system will automatically transform Market into a WordPress catalog theme that will allow you to display your offerings in simple product catalog form without any of the "Add to Cart" or "Shopping Cart" links and buttons.
Focused on Making Your Products Look Great!
When you add a product to your WordPress blog or website catalog, you are provided an area for the product title, a description area, custom search tags, and the ability to organize your catalog products into relevant categories and subcategories.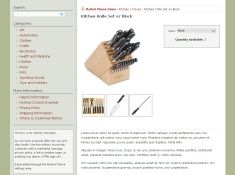 The ability to add custom 'tags' makes it easier for customers to locate and identify appropriate products within your WordPress catalog.
The image uploader tool allows users to provide each product in your catalog with a main image, as well as 3 supporting images. You also have the option to display each product's price, or no pricing data at all.
Market Theme will then display your catalog products in a special custom layout format (different than regular text pages), that will showcase your offerings in an appealing way to your visitors.
Here are some of useful features for a Product Catalog:
Market Theme is a completely self-contained WordPress Theme (This means no complex plugin integration)
Organize your catalog items into categories and subcategories
Ability to upload 1 main image, and 3 supporting images per product
Display product option values such as "Sizes" or "Colors"
You have the option to display a product price, or no pricing data at all
The ability to setup 'tags' to improve search functionality
Easy to use Backend Administration area
Besides the product catalog area, you can also create regular information (text) webpages
Market Theme is widget compatible
Includes a 60-Day, 100% Money Back Guarantee
You Can Convert Your WordPress Catalog Into an E-commerce Store Later
Furthermore, if you ever decide in the future that you would like to start selling your catalog products directly through your website, your Market Theme product catalog website or blog can be quickly converted to an e-commerce website at any time.
All you have to do to convert your WordPress product catalog into an eCommerce store, is go to the settings page and "Enable" the built-in shopping cart system option. Then, just revisit your product information pages to add your pricing info.
Once enabled, the fully self-contained shopping cart system can connect easily to Paypal, or an Authorize.net type merchant account to process payments. Or if you'd rather, you can even set up Market Theme to simply capture the orderform information, and email it to you directly so you can manually process orders offline.
Power Your Whole Website, or Just The Product Catalog Portion
Lastly, if you already have an existing website or blog, and you don't need an entire new theme template -- Your Market Theme WordPress catalog can be installed into its own separate subfolder such as "/catalog".
Then, you would simply add a link from the existing navigation menu of your current website. You can upload your logo to Market Theme, and customize the colors so that it matches the look of your main website.
Installing Market Theme in this manner will allow you to continue using your existing site, while having your product catalog area all in one place.
Intuitive and Easy to Use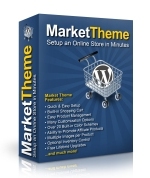 Beyond the great features, Market Theme is also very intuitive and easy to use and can be a handy and convenient tool for adding and organizing your products into product catalog format.
Installation and setup can be completed in just a few simple steps, and there are many customization options available including background & menu colors, header images, product image sizes, and much more.
The SEO optimized structure of Market Theme allows Google and other search engines to spider your catalog website very effectively.
In addition, our customer reviews and testimonials have been fantastic. People are very pleased with the functionality and the ease of use.
Try Market Theme for Yourself! It's 100% Guaranteed!
Market Theme comes with a 60-day, 100% Money-Back Guarantee. If you are not totally impressed, and 100% completely satisfied with Market Theme, just let us know and we will give you a 100% complete refund. No Questions Asked.
If you like, you can also test out our online demo to see how everything works, and to view some example screenshots of what your catalog might look like (without the pricing information and shopping cart links of course).
Do yourself a favor, and Download the latest version of Market Theme now.
You can have your WordPress product catalog up and running,
and ready to start adding products in within 5 minutes!