Want to see some examples of the Market Theme in operation?
Take a look at just a few of the customers below who are successfully using the Market Theme in their businesses. You'll see that you can do a whole lot more with Market than you may have thought.
Examples of Market Theme as an Online Store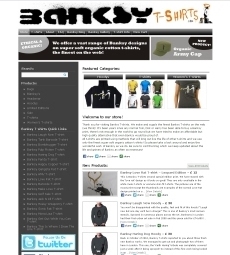 Banksy T-Shirts
http://banksyt-shirts.com/
Banksy T-Shirts sells custom designed t-shirts based on the work of English graffiti artist 'Banksy'.
They are using Market Theme as an online store to sell their clothing all over the world.
Their website is using the "storefront" page template for the homepage, with a few featured categories added at the top. As great as this website looks, it is almost entirely an unmodified standard installation, using one of the Market Theme built-in color schemes.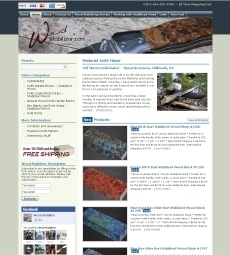 WoodStabilizer.com
http://woodstabilizer.com/
WoodStabilizer.com offers stabilized wood blanks for knife handles, reel seats, pistol grips and more.
They use Market as an online e-commerce store to sell their to stabilized wood blanks, and wood stabilizing services.
The homepage is setup to use the Market Theme "storefront" page template. This template allows them to display a "Welcome" message, followed by the latest products added to the site.
The Rosewood House
http://www.rosewoodhouse.com/
The Rosewood House is a furniture creator and custom designer of handcrafted solid wood furniture.
They use the Market Theme to offer their large selection of handcrafted solid wood Fine Furniture and Asian antiques.
Their homepage is setup to use the standard "blog" format, with their store information post set as a "sticky" post to keep it on top. Anytime they add a new post -- it is displayed on the homepage, and older ones rotate to the next page.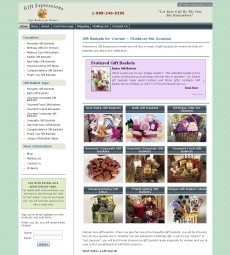 Gift Expressions
http://giftexpressionsonline.com/
Gift Expressions sells a variety of gift baskets for women for just about any occasion.
Laurie is using Market primarily as an online store to sell her gift baskets nationwide, but she also has integrated the 'Blogging' feature to allow her to connect more with her customers, and to promote featured baskets from time to time.
She has rearranged the homepage template so that it shows a featured promotion, followed by her featured categories, and a custom background.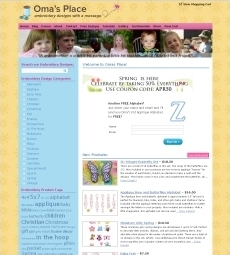 Oma's Place
http://www.omasplace.com/store
Oma's Place offers custom embroidery designs and tutorials for people to put on their own clothing.
This Market Theme online store is owned by a 63 year old Grandma. Oma loves using her two embroidery machines to embellish her own projects, and create custom embroidery designs that she delivers digitally to her customers.
Way to go Oma!
Examples of Market Theme as an Affiliate Product Website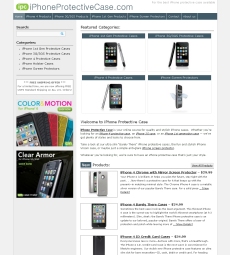 iPhoneProtectiveCase.com
http://iphoneprotectivecase.com/
iPhoneProtectiveCase.com is an affiliate marketing website promoting various iPhone cases.
This is a standard installation of Market Theme using the "Affiliate Store" option. This option removes all shopping cart references, and replaces the "Add to Cart" button with a "Get Full Details" button that links directly to an affiliate URL.
This allows a store owner to promote products that are actually sold and fulfilled by another company through an affiliate program, earning a commission on each item sold.