Still not convinced at what you can do with the Market Theme?
Check out some of the customers below who have successfully modified the Market Theme to meet their individual needs. You'll see that you can do a whole lot more with Market than you may have thought.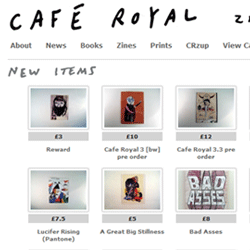 Cafe Royal - Modified Market 3
One of my favorite sites which really utilized the Market Theme is Cafe Royal.
I've used this site as a demo / instructional site for all that can be done to those willing to dive into the customization of Market. The best part is that Craig Atkinson really isn't an expert when it comes to web designer (more of an expert in print design and some awesome artwork) but look what he has done with his site (click the screenshot to the left).
Cafe Royal is running on a customized version of Market 3. Stripping MK3 of all its colors, replacing the buy now button, and adding his own banner are just some of the minor tweaks Craig made which make a huge difference in the appearance of the site.
Wooden Cotton - Modified Market 1
Another absolutely kick butt modified version of Market is Wooden Cotton.
This is a skate clothing boutique that has really taken the oldest version of Market (but one that is still available) and made it look absolutely amazing. The guys at Wooden Cotton really did an excellent job customizing just about every aspect of the Market Theme, and it truly looks like it was a custom made skate shop design.
Plus thanks to the "How-to" section of our support forum, they've even updated what is technically the oldest version of Market to have some of the newest features of Market 3, such as the Ajax Shopping Cart.
Check out Wooden Cotton or click the screenshot at the left for a larger view.