Hello world!
Welcome to WordPress. This is your first post. Edit or delete it, then start blogging!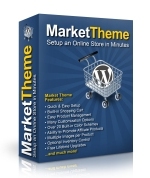 We looked at countless themes before we found Market Theme. Most of the others were super complicated. Market Theme was super easy to install and figure out. I think we had a few products added within the first hour.
— Therese Kopiwoda
Market theme is a great investment for any "small guy", that doesn't want to pay 30 bucks a month to some e-commerce service site.
— Jesse Lopez
I'd like to extend A VERY BIG THANK YOU to the guys at Market Theme - Well done guys for producing a wonderful product!!!
— Wardi Sanusi
Market Theme is amazing, and I can't wait to post my site in the gallery when we launch. I am really excited. Best investment I have made in a long time!
— M. Quinn Sweeney
Try it Risk-Free…
Backed by our 100% Money Back Guarantee!
Go ahead and try Market Theme risk-free for a full 60 days. If you're not totally thrilled with it for any reason, simply let us know and we'll issue you a full refund -- No questions asked...