Very happy indeed!
I downloaded Market theme and was able to install it and have my store running within 7 minutes!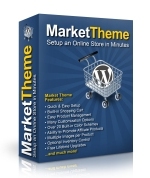 Market Theme is amazing, and I can't wait to post my site in the gallery when we launch. I am really excited. Best investment I have made in a long time!
— M. Quinn Sweeney
I wish everything worked as well as Market Theme with as little effort on my part. It's the perfect solution for the small online business! Thanks!
— Steve McCmac
Market theme is a great investment for any "small guy", that doesn't want to pay 30 bucks a month to some e-commerce service site.
— Jesse Lopez
I purchased a license on Friday and had a workable store up in less than an hour. Great job on this theme!
— Michael Hackney
Try it Risk-Free…
Backed by our 100% Money Back Guarantee!
Go ahead and try Market Theme risk-free for a full 60 days. If you're not totally thrilled with it for any reason, simply let us know and we'll issue you a full refund -- No questions asked...